My sister and her family are on their way here to visit us so I thought this week for Flashback Friday I would flash back a few months – to the last time that we saw them. FarAway family traveled to see them last March and Auntie was a surprise for the kids.
So here we are, Auntie and Princess:
Princess with her Starbucks:
Explorer and I drew flags on the sidewalk – this one happens to be the Danish flag: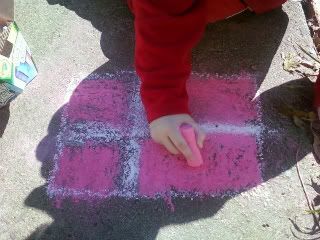 And in our alternate reality of Animal Crossing, Engineer was able to catch me a Tuna:
Oh such sweet memories!! I am hoping this trip will be as good or even better then the last!