The beginning of 2011 brought many cold and interesting days. We actually saw some snow.
But more than snow, we had record breaking cold temperatures. I dressed in layers and had the mascara freeze on my lashes!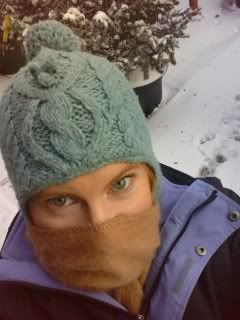 I geocached a ton, finding more caches in January then I have in another month. YAY ME! And I also started going to the gym much more. In my first step class I pulled my left calf muscle and could hardly walk for a week. Here is the calf all taped up with KT tape.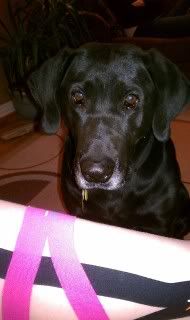 Notice Brass here and his handsome face. This is before he got in a fight at work. (Another interesting event to start off February) After the fight is pictured here. Many stitches, antibiotics, and eye drops later, he is fine! The stitches came out today!
He has a great cosmetic surgeon!
Right after this happened I headed out to Las Vegas. I met Susan out there and the trip was just amazing! We went to see Cher's final shows and had a great time. I had to change my flight because of weather and was able to get there SO much earlier! It was a relief to arrive safe and sound. I was so happy to see Susan and I think she was pretty glad to see me too! We hung out in the room for a while squealing like little girls and exchanging gifts.
After a great night was had by all, we got up early Thursday and grabbed breakfast at McDonalds. We grabbed the bus and checked into the Flamingo Hotel. I loved this hotel! It smells good and everything is PINK!! Whoop! We got In N Out Burger for lunch which we LOVE!!
We are so sad when it's gone!
This day we geocached our way thru the strip. We have found many caches here before, so it was fun to try and find some we had not found in the past. I had a few trackables to drop and we were able to do that! All three have been picked up by good cachers and will be moved on! I also picked up this cool one from Colorado!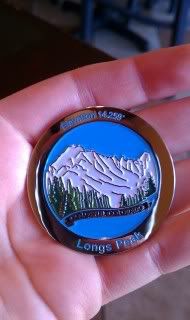 TO BE CONTINUED!
More Vegas to come!