My Sister
(who I have to thank for my blog design) does this post thing called Yesterday's News. So I thought I would copy her and do that also!
So here is yesterday's news:
It was a very hot day here in Texas, around 104 F or 40 C (for you peeps across the pond). As I was driving to the gym, the street was melted. I decided to drive in the areas where it was not melted and I am sure everyone around me thought I was crazy. But come on – why ruin a good paint job on my Jeep?
After the gym I went to a softball game – my boss's daughter's game. Man, can that 13 year old throw! It was hot there too.
I kept Brass (my black lab) with me for most of the day. When we had to go out and talk to a contractor about trees, he just dug himself a hole to lay in. Again – to get out of the heat.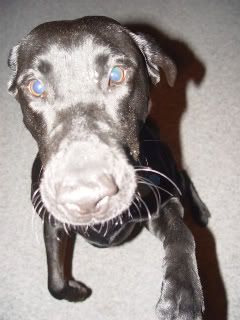 As mentioned earlier I did go to the gym. I had not been in a while because I am doing Fiddler on the Roof at night. I am positive I will be sore – I was hurting by the second weight track in my power class. Ugh!
Did I mention it was hot? Well not
this hot
or
this hot
but pretty hot! Maybe I can get the
naked cowboy
to come down here and join us in the heat!
I got four comments on my new blog! I am famous!
So that's it – feel free to comment or just enjoy.
Thanks