Ok so have you ever been so busy in real life that you have little time for internet life? That has been my reality for the last 3 weeks. It has been very hectic in my world and I am just getting around to finishing blogging about my trip of a lifetime. So here goes! We left the ship after a seriously rough night. I puked – I admit it – and Susan, who gets no kind of motion sickness, was even feeling it. We headed back to Barcelona and did some shopping in the airport. It sounds cheesy but we really did enjoy ourselves. Unique stuff and cheap!
When we arrived in Copenhagen we just caught the train back to the town where Susan lives. Odense. We pretty much just hung out for a few days in Odense. We got to have a wonderful dinner with Susan's family and I got to meet her adorable grandparents.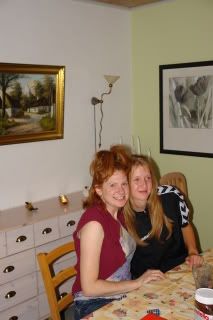 me and Susan's cutie little sister Majbrit
The last thing we did before I headed back home was to visit Hamlet's Castle in Helsingør. This is something I really wanted to do and the trip up to the northern tip on Zealand was worth it. Hamlet's Castle – known as Kronborg Castle in Denmark – was immortalized by Shakespeare in his play Hamlet. Shakespeare visited Kronborg and decided to set his play there, at 'Elsinore'. Hamlet is even done there almost every summer.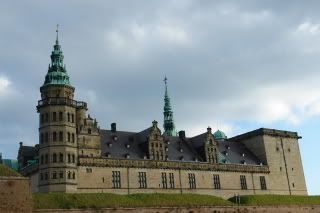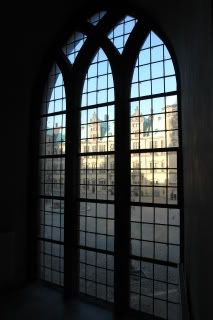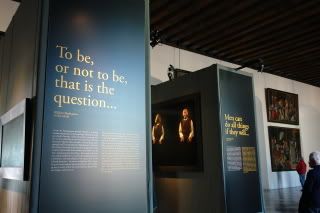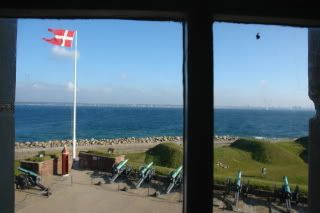 you can see Sweden across the bay
We also visited the Maritime Museum, which is housed in the castle, as well as doing one of the most exciting and scary things of the whole trip.
The tunnels under the castle are open for visitors to go thru and it was quite an experience! It was so dark and scary and so so fun! The second time we went thru we bought a flashlight and it was cool that way too. There was reflective paint on the walls with history and clues about the castle. Also down there was Ogier the Dane, who, according to legend, slumbers there until the day Denmark is in grave danger, at which time he will arise and save the nation!
Ogier
It was very cold and dark down there! If you look close you can see Susan's breath!
So this was my trip of a lifetime! As you can, hopefully, tell I had an amazing time and cannot wait to plan my next trip!
Oh and my last two countries – a layover in London and then back in the grand ole USA!