Rome & Country 6 – Vatican
So the next day of the vacation of a lifetime took place in Rome and the Vatican. I think this day needs its own post because Susan and I saw so many things! We got up very early and met our tour group at 7:00 am, if I remember correctly. We boarded the bus and started our 2-hour drive into Rome – this would start our 10-hour whirlwind tour! The port city here was Civitavecchia, which is really fun to say! Our tour guides this day were great and spoke fantastic English!
Once in Rome we started driving around the city and learning so much history. We learned that anytime something new is being built and they find ruins everything has to stop to excavate. We passed so many things that were interesting on our way to the coliseum, one being Mussolini's balcony. Did you know Mussolini was a very short man, so they made his balcony very small so he would look taller to the crowd!
So our group arrived at the Coliseum and WOW! It was just like all the pictures and stories. We only had enough time to walk around the outside and take photos, but it was fine. We stood in awe at the ruins and how big everything truly is!
Just arriving
The coliseum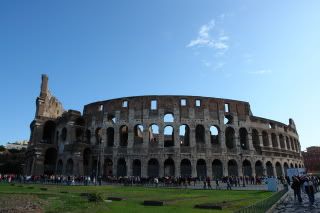 Old and new construction – if you can call anything in Rome 'new'
We were really there!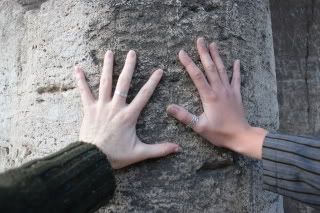 Back on the bus we headed to a very nice sit down lunch at a restaurant. The meal started out with a pasta dish, then the main course and finally a desert. It was very good and it was enjoyable to sit and get to know some fellow cruisers.
After lunch we headed off to the Vatican. If you did not know, it is considered its own country – so I added it to the list! There were soooo many people here that it was almost impossible to stop and take pictures. I was afraid that I would loose my tour group, have to become catholic and stay in the Vatican for the rest of my days. But I did not and I managed to snap a few pictures along the way. Here is a scale model of the whole Vatican. It was neat to see where we were standing and where we were headed.
We walked through many museum areas and all were so pretty with the painted ceilings and sculptures.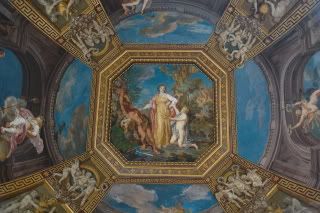 But the most breathtaking was the Sistine Chapel. We had learned many things about Michelangelo and the meaning behind many of his paintings and why he painted what he did. But to actually be in there and to look up and see this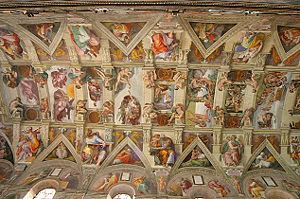 for real was indescribable. Just so you know, I did not take this picture. Pictures are not allowed.
The next stop on the walking tour was St. Peters Basilica. It's the largest basilica in the world and let me tell you – it is HUGE! All the art inside is put together with mosaic tiles and it really is beautiful.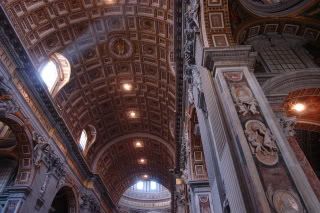 The sun streaming in thru the windows was awesome!
Our last stop in the Vatican was St Peter's square. It was really cool to see in person because I had seen it on TV so many times. We saw where the pope comes out when he is announced as pope as well as where he lives.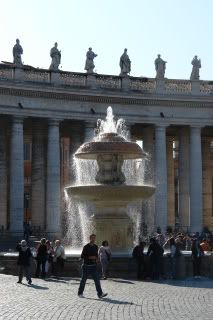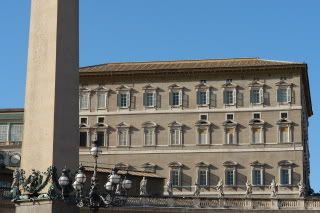 I grabbed this picture from the bus – the building in the background is where Michelangelo once lived.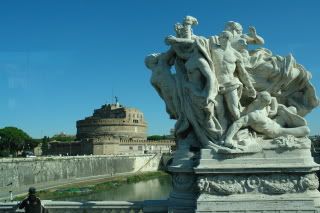 Well this pretty much wraps up our 10-hour day in Rome! I am so glad that we chose the tour that we did and got to see so much. I don't think I would have changed a thing!
FYI: the Romans are the ultimate recyclers – the marble that was covering the whole coliseum has been removed and reused – that's why it looks like swiss cheese!
Stay tuned for our favorite day of the cruise!